Bimini Blue Liveaboard Adventure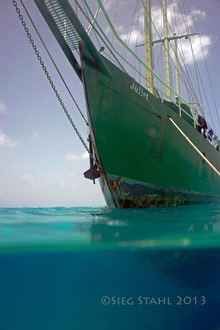 Come dive, sail, and explore with Sea Dog Divers aboard Juliet, a beautiful 104 foot three-masted sailing schooner as 12 lucky divers depart from Miami and cross the gulf stream to explore the beautiful clear waters of the Bimini chain & out-islands of the Bahamas on this exciting adventure charter.
Leave work and stress behind and get ready to enjoy nature at its best! No crowds, no traffic, just sails on a blue ocean under a blue sky! You'll enjoy the crystal clear waters of the Bahamas, and with an onboard marine naturalist, you may just come back with a new appreciation and knowledge of the amazing life that the ocean holds!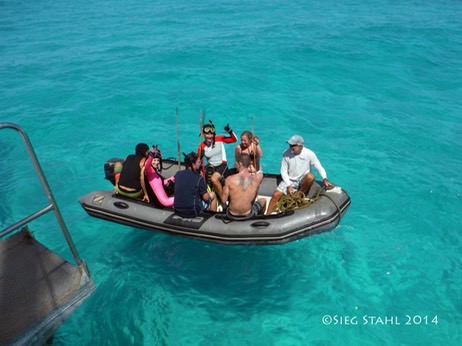 Join us and discover a turquoise paradise stretching as far as the eye can see with unimaginable graduations of color. Dive into diverse marine life around reef systems that are kept healthy by continuous enrichment of the Gulf Stream. See the Bahamas like you've never have before. We sail and dive where no one else goes. You won't see another dive boat, or any boat at all on some days. We start out diving the Bimini Chain and will routinely travel to its southernmost island of Orange Cay, stopping at dive sites such as Bull Run, Nodules Wall, and Victory Reef to name a few of the abundant choices. From Orange Cay we continue south along the edge of the Grand Bahama Bank deep into Santaren Channel. These remote sites are some of our best kept secrets, dove exclusively by Juliet passengers, and they host an abundance of life comparable to premier dive destinations around the world.

Best known for the endless visibility, thanks to the white sand and bright sun, the area of the Bahamas we dive is located close to the nutrient-rich currents of the Gulf Stream, which helps to feed the coral and keep the reefs healthy. On the edge of the Gulf Stream are beautiful awe-inspiring walls, some starting at only 35′ (11m), some at 80′ (24m), offering dramatic drift dives when the current is running. Closer to shore are shallower patch reefs, some with coralheads at 15′ (5m) tall and loaded with swim-throughs. There is no shortage of wrecks either.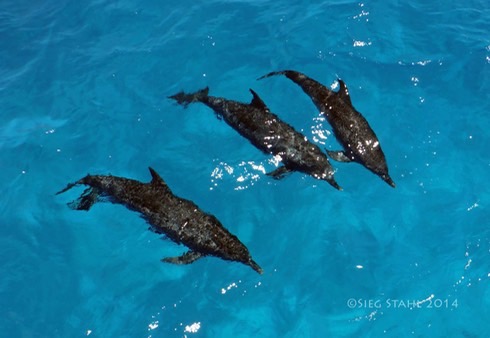 And don't forget about the sharks! The Bahamas, and Bimini in particular, are famous for sharks. Typically you'll see Caribbean Reef Sharks and Nurse Sharks, but its not uncommon to occasionally see Great Hammerheads, Blacktips, and Bull Sharks. We might even find a pod of of curious Atlantic Spotted Dolphins that often approach Juliet looking for someone to play with.  They often swim right up to the boat and ride in our bow wake if we are traveling through their areas between dive sites.

Solo travelers are welcome, but due to the limited space available, we'll need to find someone to share a cabin with you. We will try and assist where possible, but it's always more fun if you bring a friend to join in the adventure. No single cabins will be available for this expedition.
Passports are required, but you can forget about those expensive international flights or long lines for customs & immigration clearance!
General guest information and FAQ's can be found by clicking here.
If you're looking for an adventure that offers maximum value, great diving, and easy travel, then this adventure is for you!!
Space is limited to only 12 guests for this all-inclusive adventure, so contact us ASAP with questions and to arrange your deposit and reserve your place! 
email: Sea Dog Divers
We strongly recommend dive accident & trip insurance!