Baja Liveaboard Expedition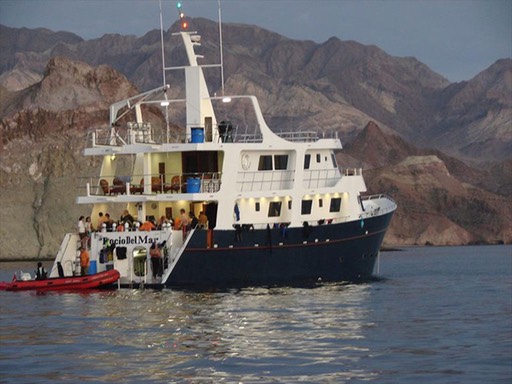 The Sea of Cortez, also known as the Gulf of California, separates Mexico's mainland from its Baja Peninsula, and is one of the biologically richest bodies of water on our planet.  This nutrient rich body of water is home to more than 5,000 species of marine life.
With clear, deep waters, abundant sea life, golden sandy beaches and inspiring vistas, this UNESCO World Heritage Site is a breathtaking destination for scuba diving and exploring diverse marine creatures. Legendary diver Jacques Cousteau described the Sea of Cortez as the "world's aquarium".  Dive on untouched walls and reefs abounding in marine life including: a vast array of nudibranchs, blennies, jawfish, rays & guitarfish, schooling fish, eels, octopus, sea horses, frogfish, Mexican horn sharks, jumping mobula rays, sea lion colonies, and the list goes on and on. There is generally a lot of whale activity on this trip.  On the last day of diving, we will do a dive in the morning then hope to snorkel with whale sharks at Bahia de Los Angeles.
Hike and explore remote uninhabited islets. Dine under the stars in a calm anchorage, socialize with your shipmates and make new friends.  Then melt into a luxurious bunk in your own finely appointed cabin with private bathrooms and hot showers.  All in a day aboard Rocia Del Mar, combined with personalized service to enhance your live aboard safety and fun.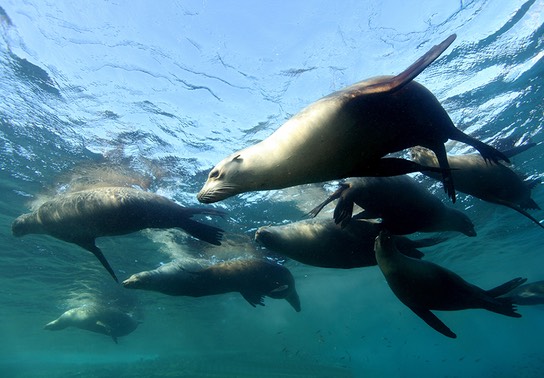 Our home for this amazing expedition is the beautiful Rocia Del Mar.  At 100 feet long with a 25 foot beam, she is of the utmost sea worthiness and is approved by both the U.S. Coast Guard and the Mexican Coast Guard.  She is equipped with state of the art electronics and all required safety equipment.
Rocia will depart from the marina in Puerto Penasco, Mexico so just catch an easy flight to Phoenix Sky Harbor airport and then relax and take the prearranged airconditioned vans (with luggage trailer) for the 4 hour drive across the border directly to the marina.
Planned Itinerary 
Day 1 - Embark at 5:00 p.m. in Puerto Peñasco. Depart the dock at 6:00 p.m.
Day 2 - Wake up at Refugio Bay on Angel Island.
Potential Dive sites: Angel Rock, La Vela, & Lolo's Cove. Sunset zodiak cruise with sea lions.
Day 3 - Angel Island
Potential Dive sites: Andrea's Eagle, El Aquario, Las Vivoras, and Las Vivoras including a night dive.
Day 4 - San Pedro Martir
Potential Dive sites: El Arroyo, Punta Martir (Sea Lions), Chayo's Cove
Day 5 - San Pedro Martir
Potential Dive sites: Ravijunco, Xareni's Pinnacle, Coromel, Morrito. In the after we go looking for whales!
Day 6 - Salsipuedes & Animas
Potential Dive sites: Los Cuervos, El Caballo, El Lavadero, and El Lavadero including a night dive.
Day 7 - Baja and Snorkeling with Whale Sharks in Bahia De Los Angeles
Potential Dive sites: El Pescador, Baja Ca. Start to head back to Puerto Peñasco in the afternoon.
Day 8 - Disembark at 7:00 am.                                                          
Space is extremely limited, so contact us ASAP with questions and to arrange your deposit & reserve your spot! 
email: Sea Dog Divers
We strongly recommend trip insurance.
Dive accident insurance is Mandatory!