Searching for paradise? Would you go to the other side of the world to find it?
Bula and Welcome to the paradise that is Fiji
Join Sea Dog Divers as we make a return journey to the enchanting South Pacific; secluded, untouched.....yet within reach!
Your tropical dream vacation...warm, turquoise waters, swaying palms, sunny days, balmy nights, relaxation, fine dining, romance, adventure and the wonderful hospitality and culture of the local Fijians.  Nestled in the heart of the South Pacific lies the secluded Fiji island paradise of Beqa (pronounced Benga).  Surrounded by one of the worlds largest and most spectacular barrier reefs, Beqa is rich and untouched.  Only six square miles, the island has no roads or towns - just a few isolated villages scattered around the perimeter.
Our base camp for this adventure is Beqa Lagoon Resort, an intimate resort featuring private air-conditioned Fijian villas (called bures) spread out beneath the lush tropical landscape.  Each of these generously sized mini-suites are beautifully appointed with traditional island decor.
Enjoy fine gourmet dining with a magnificent range of taste sensations including fresh local fish and vegetables, New Zealand lamb, Australian beef and incredible deserts served in the casual elegance of the spacious open air Bure Kalou.
Culture

The smiling faces of the staff will greet you with a friendly "Bula" - the Fijian expression of welcome, affection and sincerity.  During your stay, they will share their culture and traditions with you.  You come to the resort as guests and leave as family.
You will be invited to join the staff in walking tours to the local villages and kava ceremonies.  You'll enjoy balmy evenings in the main open air bure sipping coconut drinks while listening to the sweet sounds of live Fijian music.
Beqa is also the ancestral home of the famous Firewalkers.  This mysterious ceremony originated in Beqa 300 years ago and the legend continues today in Fiji.  As a guest, you will have the privilege of witnessing this sacred ceremony as Beqa's fierce Fijians walk barefoot across hot rocks.
World Class Diving

Surrounded by over 190 miles of spectacular coral, Beqa is one of the world's largest barrier reefs.  Diving these calm protected waters is like exploring another world.  The water is clear and warm, visibility is typically 60 to 100+ ft, currents are generally mild and the water temp stays a fairly constant 80 degrees.  Many of the most spectacular dive sites are only a few minutes from shore and, if you stayed long enough, you could explore over 100 different sites.
The PADI Dive Masters have been diving these waters since they were children and know every coral head.  They will point out all the colorful and amazing treasures these waters hold - blue ribbon eels, clown triggers, lion fish, leaf scorpions, octopus, vivid anthias and fusiliers.  Discover the top ten dive sites, such as Carpet Cove, home of the Chinese trawler wreck, and John's Tunnel - 30 ft long and lined with soft coral.
For the more adventurous, join us for a heart pounding and incredible optional 2-tank shark encounter! You'll see a wide range of pelagics and up to nine species of sharks, including Bull Sharks, and even Tiger Sharks are regular visitors! We had a 17' female and a 10' male Tiger Shark on one of our last visits to the amazing Cathedral dive site…..get your cameras ready!!
Activities

Enjoy fun-filled days snorkeling, swimming or kayaking the warm waters of the blue lagoon.  Hike to the mystical waterfalls, play a friendly game of volleyball with the locals or spend an exciting afternoon on an optional deep sea fishing trip!
Beqa is also a bird watching haven with the largest varieties of birds in Fiji.  End your perfect day relaxing in a nearby hammock or lounging by the large and luxurious infinity pool followed by a soothing aromatherapy massage at the full service Lali Spa on-site.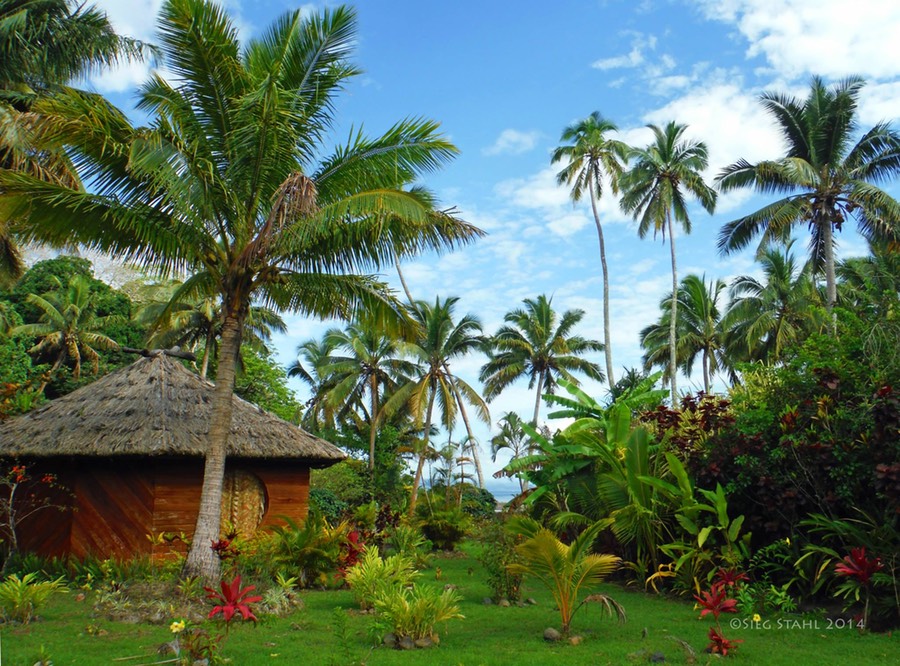 Space is limited for this adventure of a lifetime so contact us ASAP with questions and to arrange your deposit & reserve your spot! 
email: Sea Dog Divers
We strongly recommend dive accident & trip insurance!