A diving & sailing adventure on the "Big Green Boat"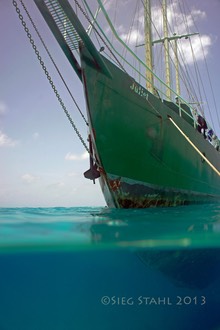 Come dive, sail, and explore the enchanting island of St. Croix with Sea Dog Divers aboard Juliet, a beautiful 104 foot three-masted sailing schooner. Twelve lucky divers will depart from Frederiksted Pier to explore the wrecks and reefs of Butler Bay, the walls off Cane Bay, and the reef and slopes of the northern shores of the island around the Salt River and Christainsted on this exciting adventure.
Leave work and stress behind and get ready to enjoy nature at its best! No crowds, no traffic, just a blue ocean under a blue sky! St. Croix is truly a hidden gem in the Caribbean. As the largest of the US Virgin Islands, it boasts beautiful beaches, rain forests, salt marshes, desert, and plains. But the beauty doesn't stop at sea level. With so much natural diversity, you might want to consider extending your trip to explore the island, or maybe sneak in some additional dives!
Our trip will begin and end at the Frederiksted Pier, which means you land, head to the boat, tos your clothes in your cabin and throw a tank on your back the day you arrive! If your no-fly times allow, at the end of the week you can take a dip with a final afternoon dive and maybe even a last night dive at the Pier as well. This Pier is beloved by many a diver, photographer, and critter lover. Ranging in depths from 10-60 feet, there is no lack of diversity all along the pilings. Octopus, sea horses, and frog fish are almost guaranteed on every dive, not to mention juvenile puffers and box fish, many varieties of worms and sea slugs, and a handful of resident turtles as well.
Just to the north, the ruins of the old cruise ship pier lie in the deep section of Butler Bay at a dive site called Armageddon. Destroyed by hurricane Hugo in 1989 and sitting in 80-100′ of water, it looks just like it sounds. Steel girders, concrete, and general wreckage pile high on the seafloor, attracting tons of life! Also in Butler Bay are an old trawler the Suffolk Maid, a large barge called the Virgin Islander, and our personal favorite, a small tugboat named North Wind sitting upright in 50′ of water. If your navigation is spot on, you also might be able to find NOAA's old Undersea Research Laboratory where 4 scientists could spend up to 2 weeks exploring the bottom of the ocean.
Just around the corner in Cane Bay are the most spectacular collection of Wall dives you'll see this side of the world. Cane Bay wall stretches a few miles in each direction with a sloping sand top starting between 20 and 40 feet, and a gorgeous spur and groove wall starting at 60-80 feet and dropping to thousands. Old ship's anchors dot the seascape, and sharks, eagle rays, and turtles are abundant. Evenings in Cane Bay might be topped off with a run into the beach to a local island bar!
Still further east, the Salt River Canyon, offers some amazing diversity – the nutrient-rich waters of the Salt River curating a beautiful coral-lined valley. The visibility might not be as predictable here, but the dive is well worth it!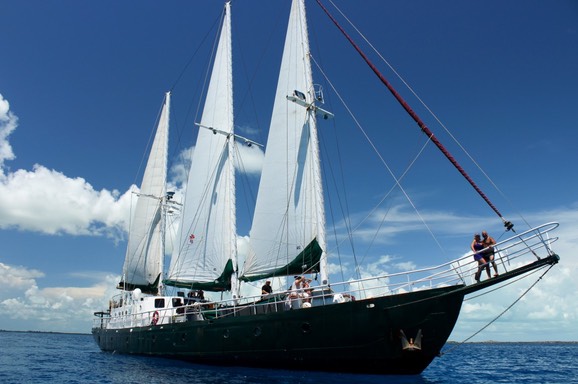 Solo travelers are welcome, but due to the limited space available, we'll need to find someone to share a cabin with you. We will try and assist where possible, but it's always more fun if you bring a friend to join in the adventure. No single cabins will be available for this expedition.
St. Croix trip planning information can be found by clicking here.
If you're looking for an adventure that offers maximum value and great diving, then this adventure is for you!!
Space is limited to only 12 guests for this all-inclusive adventure, so contact us ASAP with questions and to arrange your deposit and reserve your place! 
email: Sea Dog Divers
We strongly recommend dive accident & trip insurance!